Individuals require solutions that are as diverse and unique as their individual situations.
Practice lead: Rachael Grabovic
Rigby Cooke specialises in every aspect of Wills, trusts and estate planning for professionals, executives, business owners, family businesses, investors and retirees.
Our lawyers will equip you with a fundamental understanding of the law and present you with tailored options so that you can make informed decisions about the management of your legal concerns, including the planning of your wealth now and after your death. Most importantly, we ensure that your wishes and intentions are carried out in a legal and effective manner.
Our experts are members of the Society of Trust and Estate Practitioners (STEP).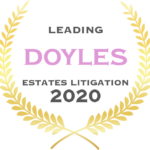 Wills and estate planning
How do you best ensure the disposal or distribution of your estate after your passing?
Death is not something we choose to often think about often, but when you are responsible for other people, whether it be your family or your business, it is something you need to turn your mind to.
A Will is the most effective way to ensure that your assets are distributed in accordance with your wishes. If you die without a Will (intestate), the law will determine how your estate is distributed. This can result in outcomes that you may not be happy with.
At Rigby Cooke, we understand the emotions and complexities around Wills and estates, and can help take the pain out of implementing your estate planning. We'll work with you to fully understand your personal and financial situation and in conjunction with your wishes, will tailor a solution that meets your needs and objectives.
As well as drafting your Will, our experienced lawyers can review family trusts or business structures, implement shareholder agreements or testamentary discretionary trusts, or simply prepare an Enduring Power of Attorney.
We can help you with:
simple Wills through to complex Wills which incorporate testamentary trusts or charitable foundations
asset protection strategies
business and personal succession planning
family discretionary trusts
superannuation succession planning
Learn more about:
Enduring Powers of Attorney
As we grow older, many of us consider the situation where in the future, we may not be able to manage our own affairs. By establishing Enduring Powers of Attorney, we can empower people we trust to take care of our affairs should we become mentally or physically incapacitated.
In Victoria there are three different types of Enduring Powers of Attorney, and each deals with a different aspect of your life management:
Enduring Power of Attorney (Financial) – to manage your legal and financial affairs
Enduring Power of Attorney (Personal) – to make lifestyle decisions on your behalf
Medical Treatment Decision Maker – to make decisions about your medical treatment
Rigby Cooke can assist you in preparing Enduring Powers of Attorney to ensure you have peace of mind about your future. We will guide you through the process, helping you to understand the different situations that might arise so you can ensure you have given all necessary powers to your Attorney.
Our compassionate lawyers have experience dealing with many different individual situations and our services in drafting and reviewing Enduring Powers of Attorney are underpinned by this knowledge.
We can also help if you are concerned about a person who holds an Enduring Power of Attorney for someone else and need assistance in revoking an Attorney.
Learn more about enduring powers of attorney >>
Probate and letters of administration
In most circumstances before assets of a deceased person can be distributed according to their Will, the executor will require a grant of probate. This is an order from the Supreme Court that authenticates your Will and authorises the nominated 'executor' proving your will to distribute your estate.
If you die without a Will or the Executors appointed by your Will are unable to act, then the Supreme Court will issue letters of administration.
Rigby Cooke Lawyers can assist you or your family in obtaining simple or complex grants of probate, letters of administration or lodge a caveat where you wish to stop a grant of probate.
In complex cases where the estate is to be distributed to people in different countries or where assets reside in other countries, we have the resources to ensure the process remains manageable.
Learn more about appointing an executor and trustee >>
Estate administration
If you are the executor of a Will or administrator of an estate, you might need help in the administration of that estate. We can provide you with advice and guidance, or alternatively we can manage the entire administration process for you, no matter how complex.
Our experienced and respected lawyers can help you with managing the most simple to complex estates. When beneficiaries or assets are overseas and subject to other countries' laws our international network ensures we can assist you.
We can help you with:
dealing with disgruntled or difficult beneficiaries
defending claims against the estate
securing estate assets
recovering debts owed to the estate
preparing administration accounts and records
foreign assets and beneficiaries
executor's commission
tax-related matters
preparing distribution statements for beneficiaries
complying with statutory duties
transfer or sale of real and personal property
preparing deeds of family arrangement
International estates
Today we live in a global community. Family and friends are often living in different countries, and it is possible to buy or inherit property and other assets in another country.
Foreign assets can lead to special challenges when it comes time to administer an estate. For example, the sale of property in another country requires knowledge of that country's tax and statutory laws. In other situations, beneficiaries may be located in other countries which impose different taxes and charges on Trusts or foreign property. Often the taxes and charges will be calculated differently depending on the citizenship or residence of the individual concerned.
We are experienced in untangling the complexities of Wills and estates when there is an international element.
Our services include reseal of court foreign grants (granting of probate in Victoria for foreign Wills, where there are Victorian assets to be distributed), probate of international Wills or managing the distribution of international assets.
Our lawyers are members of the Society of Trust and Estate Practitioners (STEP), a professional organisation that provides us with an outstanding international network of peers we can call on to help with your matter. If there is a dispute around a Will or trust, and international resources are needed, our local litigation experts can team up with our international partners to work through the issues and help you achieve the outcome you want.
Guardianship & administration
Vulnerable people need protection.
Where enduring powers of attorney do not exist and someone you care about suffers from a disability and cannot make decisions about either their financial affairs or lifestyle, the Victorian Civil and Administrative Tribunal (VCAT) can appoint an Administrator and/or a Guardian to make decisions on their behalf.
Disability can affect anyone at any age and can be due to a decline in mental capacity, intellectual impairment, physical disability or an acquired brain injury.
An appointed Administrator will make legal and financial decisions, where as a Guardian will make lifestyle decisions, including where your loved one lives, who can visit them and whether they should be permitted to work.
If you have concerns about decisions being made by a loved one or fear that an Administrator or Guardian is not acting in a represented person's best interests, Rigby Cooke Lawyers can help.
We can help you with:
advising on guardianship and administration orders
preparing VCAT applications
reassessment hearings
appearing at mediation and VCAT hearings
breach of duties
recovery of misappropriated funds
Learn more about guardianship and administration appointment by VCAT >>
Trust disputes
Trusts are a common legal instrument used for the management of assets. They can be established for commercial or personal purposes, and can be established during one's lifetime (as an inter vivos trust) or you may consider setting up a testamentary trust as part of your Will.
There are many financial and legal benefits to establishing a trust, and the benefits are generally the same whether set up during your lifetime or upon death via your Will. One element is protection for your beneficiaries whether an undischarged bankrupt, a gambler or person going through a relationship separation. Although trusts are established with all good intention, sometimes the beneficiaries of the trusts will be in conflict.
Rigby Cooke Lawyers has extensive experience in managing and resolving trust disputes. In some cases, we deal with disputes at the time the trust is being set up when the beneficiaries are involved. Other disputes arise during the administration of the trust.
Further complexity can arise when there are international facets to the situation, such as assets or beneficiaries residing in a different country.
We can help you or your beneficiaries resolve your disputes and help you achieve the outcome you want.
We can help you with:
trust formation and advice
trustees' powers
breaches of trustees' duties
beneficiary rights and entitlements
appointment and removal of trustees
Learn more about testamentary discretionary trusts >>
Will disputes
Disputes around Wills are never pleasant. Emotions run high, and can cause lasting damage to relationships.
At Rigby Cooke, we can help you resolve your Will dispute by representing your interests and sorting out even the most complex of situations.
Whether you are contesting a Will, challenging a Will, questioning the validity of a Will or removing an executor, we have the experience you need to work through the many aspects of the dispute.
In a ever-shrinking world, this can mean working with international partners and experts to get the information and actions you need to achieve the result you want. We will minimise the stress and work hard to get an outcome as quickly as possible, in the most cost-effective manner.
We can help you with:
disputes of/and contested Wills
validity of a Will
undue influence and improper conduct
breaches of executors' duties
removal of executors
cy-près applications
interpretation of WIlls
informal Wills
Learn more about contesting a Will >>
Charitable trusts
There are many ways to give back to the community.
One way people choose to do that is by setting up a charitable trust in their Will.
A charitable trust can provide financial support vital to existing charities or to individuals. They can play an important role in society, such as supporting the poor, medical research and education.
Successful implementation of your wishes is dependent on the interpretation of those wishes by others. To ensure your wishes are carried out effectively, it is important the trust you set up is created with appropriate thought and structuring while you are still able to have input.
Our lawyers understand all the legal and regulatory requirements of charitable trusts. We can help you ensure your legacy endures, and provides maximum ongoing benefit with none of the problems that beset poorly established foundations.
If you would like to establish a trust during your lifetime we can also assist with the establishment of a Private Ancillary Fund or Charitable Trust. Although both structures are charitable their functionality and regulatory obligations are different. Contact us to discuss what type of charitable trust best suits your objective.
Testimonials
I had been putting off getting my affairs in order for years but a pending major operation impelled me to make a Will. Knowing that Rigby Cooke specialised in this field I called. They listened and understood my priorities, objectives and unique circumstances; I finally have a Will and Powers Of Attorney that reflect my wishes.

Honestly it was a pleasure to deal with them and comforting to know I have everything in order with people I trust.
Trish McBride, retired sales executive
I would highly recommend Rigby Cooke, they met all of my expectations and provided both a timely and cost effective service. I now feel comfortable in the knowledge that my estate planning and all legal documentation has been completed and I no longer need to worry about this.
Pamela Schivo, early support coordinator at Transport Accident Commission
Rigby Cooke gives excellent advice and good service in regards to probate matters. I highly recommend them.
Helmut Thorei, private client
We needed to get some Wills prepared and Rigby Cooke were empathic, responsive and highly professional. The attention to even the smallest detail was exceptional.
Bruce Phillips, private client
Please give our heartfelt gratitude to Rachael and her team for their expertise in ensuring that we receive the inheritance that we should have been awarded in the Will. This money will make such a huge difference in our lives.
Julie May Carter, private client
Wills, Trusts & Estates team