Victoria Comino is a newly promoted Special Counsel in our Workplace Relations group. She has over 20 years of workplace relations experience across both legal and commercial practice.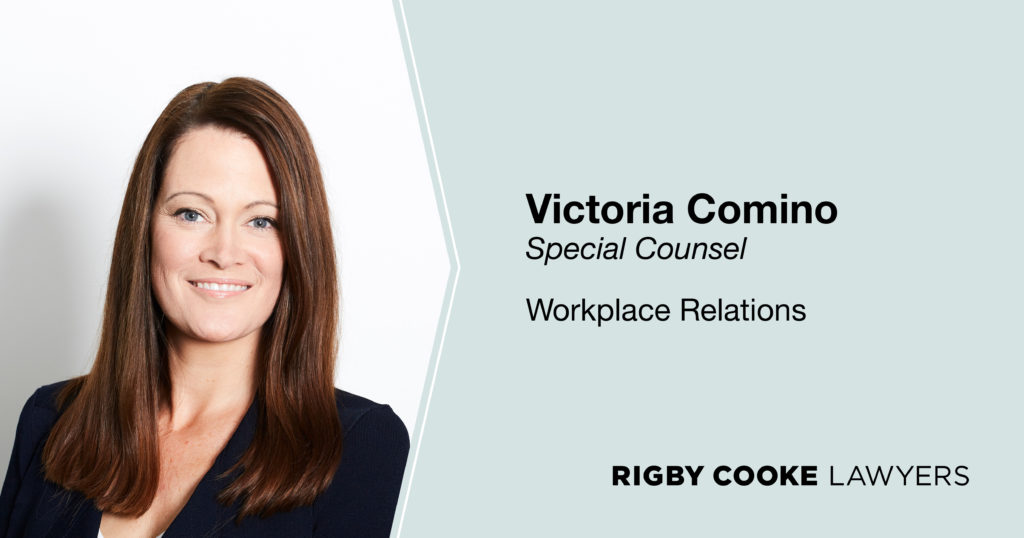 What does your promotion mean to you?
It demonstrates Rigby Cooke's commitment to work/life balance. The flexibility provided to me has made it possible for me to have a young family and work part-time without pressing pause on my career.
What have you done in the lead-up to your promotion?
I was recently involved in a County Court matter where an employee alleged a breach of contract and sought hundreds of thousands in damages. I acted for the employer (a longstanding and valued client) and was successful in defeating that claim. It was rewarding on many levels.
What advice would you give to newly qualified lawyers?
Give active thought to the type of lawyer you want to be, not just in terms of subject matter but also the way you engage with clients, opposing practitioners, colleagues and very importantly, support staff – you only get one reputation and it will largely be of your own making.
Who has been the biggest influencer in your life?
There have been several. My parents come from the land, and no one can teach you more about work ethic and resilience than farmers. But also, in around 2004 while working as an Employee Relations Manager (ERM), my manager at the time (Gillian Bowers) suggested that I pursue a career in law. Gillian then encouraged me while I juggled studying law and my ERM role. Without that gentle nudge and the ongoing support, I may never have made the leap into the law.
Who was the first person you called to tell about your promotion?
My husband, closely followed by my mum – but that got a little awkward when she thought Special Counsel was the new-fangled term for Queen's Counsel…
How will you celebrate your promotion?
Champagne. The really good kind!