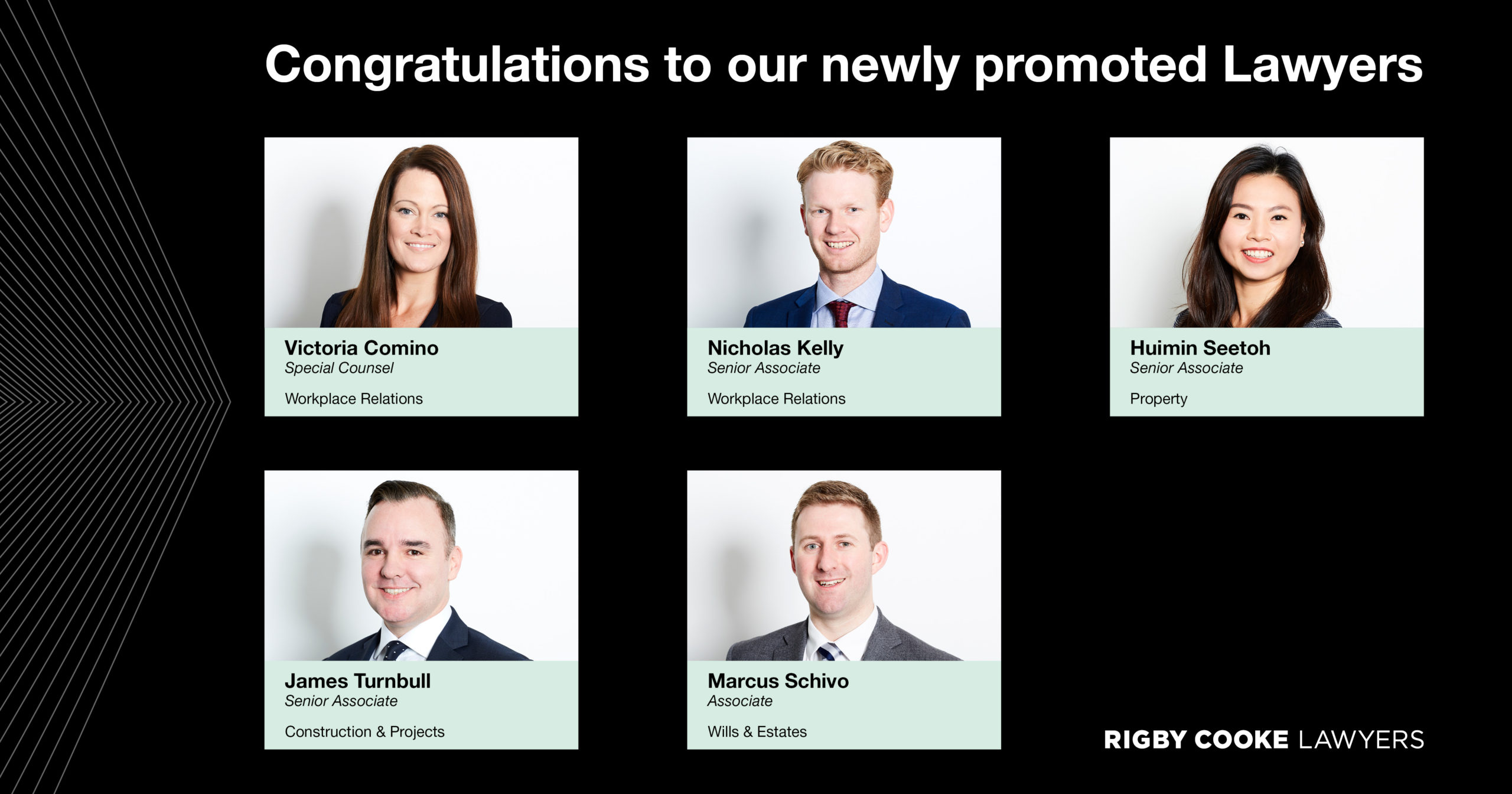 Rigby Cooke Lawyers is proud to announce this year's Special Counsel, Senior Associate and Associate appointments, effective 1 July 2020.
Our new Special Counsel is:
Victoria Comino, Workplace Relations
Our new Senior Associates are:
Nicholas Kelly, Workplace Relations
Huimin Seetoh, Property
James Turnbull, Construction & Projects
Our new Associate is:
Marcus Schivo, Wills and Estates
These appointments acknowledge the exceptional work of our legal staff across the firm.
"I congratulate Victoria, Nicholas, James, Huimin and Marcus on their well-deserved promotions. These appointments recognise the commitment and talent of each lawyer" says Managing Partner, Bill Karvela.

"I have personally worked with each of the newly promoted lawyers and they are a credit to the firm. Their promotions are a testament to the dedication of these lawyers, and the high technical standards they consistently achieve."
Workplace Relations
Victoria Comino has over 20 years of workplace relations experience across both legal and commercial practice. Victoria acts for a number of employers providing a broad range of advice and undertakes dispute work on their behalf. Victoria's combined experience as a lawyer and senior human resources practitioner ensures her clients receive practical and commercial advice and support.
Nicholas Kelly operates across a range of employment and industrial relations matters, both advisory and litigious. In particular, Nicholas specialises in unfair dismissal claims, employment contract disputes, regulating enterprise agreements for employers, advising in complex award interpretation and post-employment restraints.
Construction & Projects
James Turnbull is a building and construction lawyer who combines legal expertise with over a decade of experience in business. This combined experience provides him with an edge in immediately identifying key aspects of any dispute and pursuing resolution of building and commercial disputes to achieve effective outcomes with an eye on the clients bottom-line.
Property
Huimin Seetoh joined the Rigby Cooke team in 2019. Huimin practices extensively in land acquisition, sales and property development for major property owners and developers. She enjoys working with clients to achieve the most commercial and practical outcome for their business and personal objectives.
Wills & Estates
Marcus Schivo practices in the area of wills and estates (including estate disputes), estate planning and estate administration. He has five years' experience and works with his clients to provide comprehensive and practical legal advice for what are often complex and emotional issues affecting significant assets.