During the COVID lockdown last year, the Victorian Government passed emergency legislation to deal with the execution of many legal documents, including Wills and Powers of Attorney. The legislation legalised the electronic signing and witnessing of such documents.
Unfortunately, the rules were cumbersome and difficult to execute correctly. In September of this year, Registrar of Probates, Kate Price, advised that all of the electronically signed Wills submitted for probate since their introduction last year have not complied with the legislative requirements, meaning the Wills were invalid. This illustrates how difficult the legislation was to follow for lawyers, let alone a layperson trying to understand and follow.
On 26 April 2021, new regulations came into effect, making audio-visual signing and witnessing of Wills and Powers of Attorney the new norm. However, the new permanent legislation changed the requirements making it easier to follow.
The new process for signing audio-visually signed and/or witnessed Wills is as follows: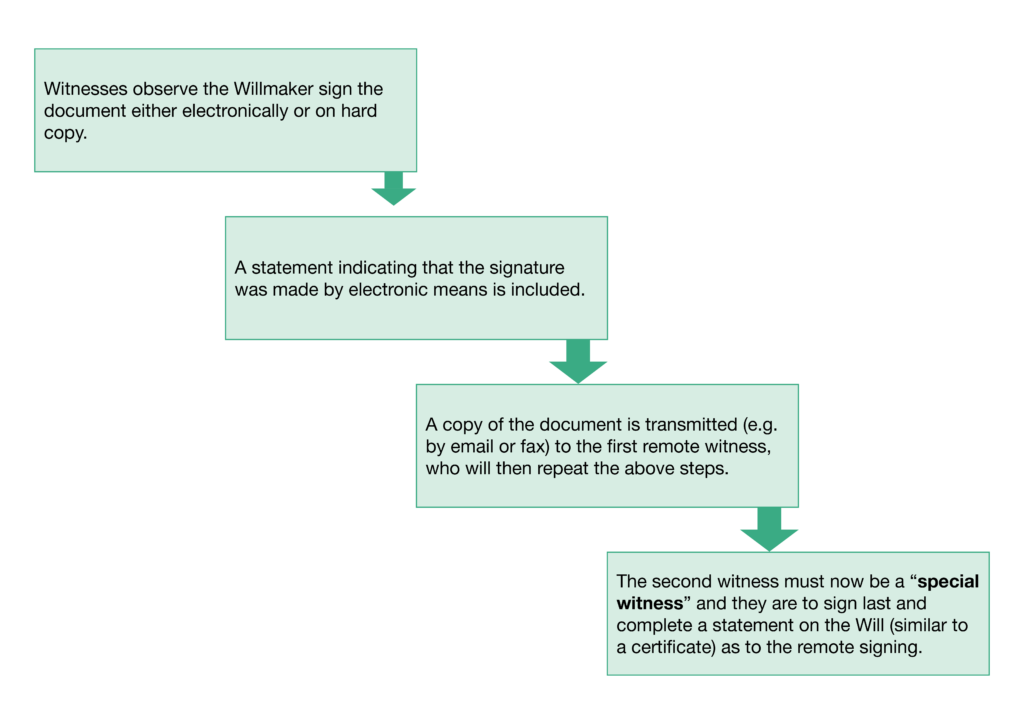 A special witness is currently classified as a legal practitioner or a justice of the peace. This new requirement will hopefully mitigate against forged electronically witnessed documents.
The electronic signing and witnessing of powers of attorney has a similar process.
Although this new process is easier to follow, it will take some time to get used to, as the one single document must pass from the Willmaker to the first witness and then to the special second witness. All three must witness either personally or audio-visually the signing of the document by the other two individuals.
In these challenging times, this legislation provides clients with an option to sign their estate planning documents electronically in circumstances where they may otherwise be unable to execute their documents. This can provide certainty and peace of mind. Although we do not see electronic signing and witnessing of estate planning documents becoming the "norm", it will definitely continue to play a part in our practice in the future.
Disclaimer: This publication contains comments of a general nature only and is provided as an information service. It is not intended to be relied upon as, nor is it a substitute for specific professional advice. No responsibility can be accepted by Rigby Cooke Lawyers or the authors for loss occasioned to any person doing anything as a result of any material in this publication.
Liability limited by a scheme approved under Professional Standards Legislation.
©2021 Rigby Cooke Lawyers