Welcome to our series of HR interviews with Associate Stephanie Shahine, who answers some of the most common questions asked by HR managers regarding employees' legal entitlements and employers' health and safety requirements, especially as business begins to transition back into the office.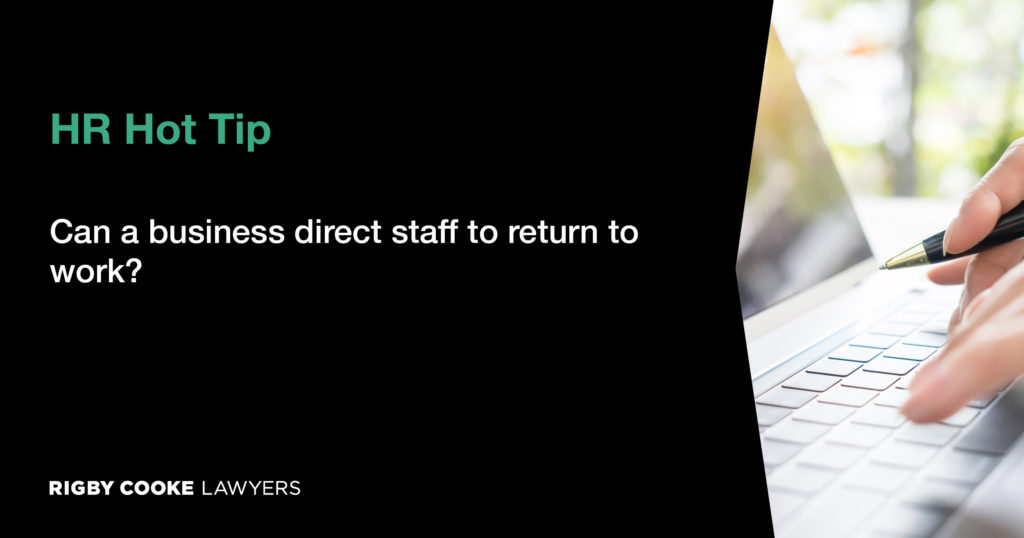 As COVID-19 restrictions ease and office capacity allowances increase, businesses are looking to return their staff to the office. This raises the question, can a business direct staff to return to work, and if so, what should you do to prepare?
Employees cannot refuse an employer's direction to perform or return to work, provided the direction is reasonable, in line with enforceable government directions and the employer's legal obligations. An instruction to return to work will not be lawful or reasonable if it is contrary to a legislative requirement. For example, if the government direction is that employees must work from home if they can work from home then an instruction from the employer to return to the workplace will only be lawful or reasonable if the employee cannot work from home.
Now that some COVID-19 restrictions are easing some employees may wish to continue to work from home and this may lead to employees refusing to comply with a reasonable direction to return to the workplace. In these instances, there are options available to employers which may include taking disciplinary action, which in some instances could include termination of employment1. If taking disciplinary action or terminating employment, employers must comply with the general protections and unfair dismissal obligations in the Fair Work Act 2009 (Cth) to avoid penalties. Further, it is paramount that employers are aware that in some instances an employee can request to continue to work from home and such requests are reasonable. This is discussed further below.
Employers and employees are encouraged to work together to plan the return to the workplace and if an employee has concerns about the safety of their workplace, they should raise the concerns with their employer as soon as possible.
Employers have an obligation to note and apply COVID-19 restrictions which may be in place. In the state of Victoria, the Chief Health Officer has made the Workplace Directions in accordance with the Public Health and Wellbeing Act 2008 (Vic). These directions are regularly reviewed and amended. These directions place obligations on Employers, particularly to keep a COVIDSafe plan. For example, employers are to ensure that workers do not attend the workplace if they have been tested for COVID-19 because they are symptomatic2.
Employers need to familiarise themselves with and understand their legal obligations to avoid any possible claims by employees (both existing and former), as well as prosecution by the Fair Work Ombudsman or Safe Work Australia.
As an employer, it is your obligation to provide a safe and risk free working environment for all employees, as far as is reasonably practicable, both in the workplace and while they are working from home. Employers should ensure they are adhering to the Fair Work Act 2009 (Cth) and the Occupational Health and Safety Regulations 2017, to fulfill their obligations.
A HR Legal Audit conducted by Rigby Cooke's Workplace Relations team can provide the HR function and, in turn, provide employers with comfort in knowing that they are legally compliant, or at least provide advance warning of any potential compliancy issues before they become problematic.
1. https://coronavirus.fairwork.gov.au/coronavirus-and-australian-workplace-laws/returning-to-work-the-workplace/directions-to-return-to-work-and-the-workplace
2. Refer to the Workplace Directions (no 24) – https://www.dhhs.vic.gov.au/sites/default/files/documents/202104/Workplace%20Directions%20%28No%2024%29%20-%209%20April%202021.pdf

Disclaimer: This publication contains comments of a general nature only and is provided as an information service. It is not intended to be relied upon as, nor is it a substitute for specific professional advice. No responsibility can be accepted by Rigby Cooke Lawyers or the authors for loss occasioned to any person doing anything as a result of any material in this publication.
Liability limited by a scheme approved under Professional Standards Legislation.
©2021 Rigby Cooke Lawyers