The Victorian Government announced that it intends to increase the First Home Owner Grant (FHOG) from $10,000 to $20,000 for new homes built in regional Victoria and valued up to $750,000.
The grant will apply to contracts signed from 1 July 2017 to 30 June 2020, at which time the Government will review the benefits to regional Victorian businesses and residents.
Premier Daniel Andrews stated 'This is a win for first home buyers in regional Victoria, and it's a win for local jobs too.'
We will keep you updated with timely alerts as more details become available.
Victoria Government media release: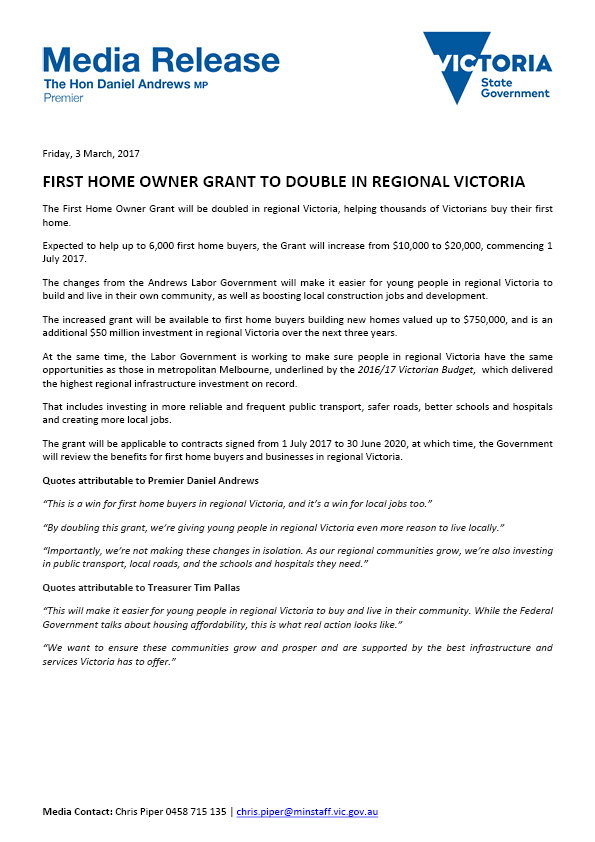 Disclaimer: This publication contains comments of a general nature only and is provided as an information service. It is not intended to be relied upon as, nor is it a substitute for specific professional advice. No responsibility can be accepted by Rigby Cooke Lawyers or the authors for loss occasioned to any person doing anything as a result of any material in this publication.
Liability limited by a scheme approved under Professional Standards Legislation.
©2017 Rigby Cooke Lawyers