Our ability to reach a successful legal outcome for our clients is a product of our passion for success, technical legal skills and depth of experience within the sector.
Practice lead: James Donoghue
While the heath and aged care industries are extremely diverse, we have been assisting clients across these sectors for many decades. As a result, we have significant breadth and depth of experience in successfully advising clients on their individual circumstances.
Our professional legal services assist businesses and individuals throughout their complete life cycle of legal requirements.
We assist clients who operate in the following areas: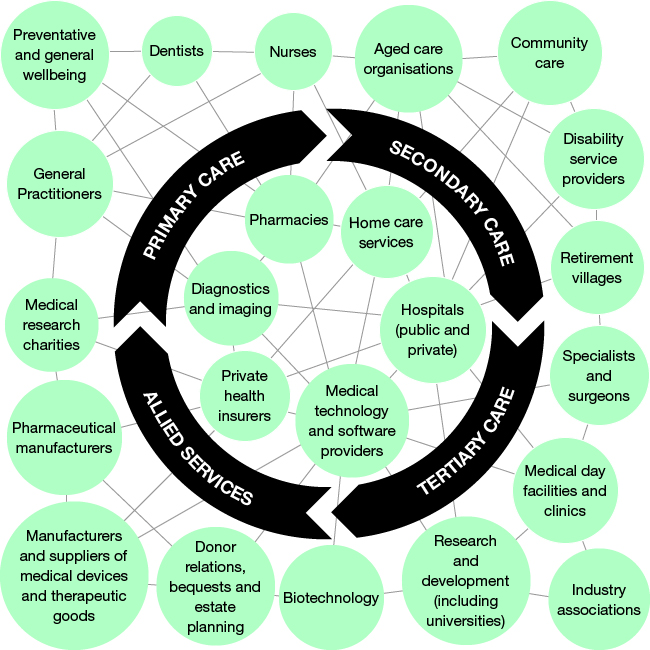 Mergers, acquisitions and financing
Exploring investment, restructure and exit opportunities requires solid, commercially focused legal advice and assistance. We assist companies in identifying and successfully accomplishing business and asset transactions.
We can help you explore the viability of an opportunity, and once you have decided to proceed we can assist with making the transaction as smooth as possible.
Learn more about our mergers, acquisitions and financing services >>
Corporate governance
Having the right governance structure in place is vital for the compliance obligations of your business.
We can help you with a full suite of corporate governance services, including providing advice on choosing the best board structure and controls to suit your business operations.
If your business is going through significant change, including through a merger or acquisition, we can guide you through the process of an organisational restructure.
In addition, we can draft and review your constitutions and rules, prepare notices of meetings, and mange any required transfer of registration.
Learn more about our corporate governance services >>
Commercial law contracts
It is critical to ensure the details of your commercial arrangements are properly documented from the beginning. This will clarify the rights and obligations of the parties involved and avoid disputes.
Our contract law experts can review, prepare and negotiate the full suite of commercial contracts necessary for the operation of your business.
Learn more about our commercial contracts services >>
Regulatory compliance
In an increasingly complex commercial environment, ensuring regulatory compliance is a critical undertaking. If your business is operating across geographic or legislative boundaries, or within different industries, you need experts on your side who understand the regulatory requirements that affect your operations, and the interplay between them.
Rigby Cooke will help you ensure compliance with the relevant regulatory frameworks right from the start, at business planning stage, or when you are rolling out new initiatives, changing your business operations or conducting a cyclical review.
Our specialised experience includes Corporations Act, anti-money laundering, occupational health and safety, privacy, Foreign Acquisitions and Takeovers Act and Foreign Investment Review Board (FIRB).
Intellectual property
Intellectual property (IP) assets are critical to the value of your enterprise and need to be identified, registered and protected in accordance with Australian law and potentially foreign laws if you trade overseas.
Our IP team can help you to conduct trade mark availability reports, then register, protect and manage your trade mark portfolio, digital IP protection including software and IT agreements, and copyright protection including publishing and licensing arrangements.
If you have been threatened with IP infringement or believe your IP has been infringed, we can represent you through legal proceedings including misleading and deceptive conduct, passing off issues and domain name disputes. We also assist with issues relating to parallel imports or 'grey' products.
IP also refers to confidential knowledge obtained by working for or with your business. We can assist you to identify and protect confidential business information through employee, supplier, business partner, funding or other commercial agreements.
Learn more about our intellectual property services >>
Privacy and data protection
Privacy and data protection concerns the management of personal information. The definition of personal information is broad and it captures any information about an identified individual. This includes names, photographs, basic contact information, medical records, credit card details and information about a person's location at a specific point in time.
We can assist health and aged care providers to navigate Australia's complex privacy law framework, including mandatory data breach notifications.
Our experts provide you with practical advice, including reviewing or drafting your corporate privacy policies and operational documents, such as collection notices. We can also assist with investigations, audits and compliance issues.
Learn more about our privacy and data protection services >>
Employment and workplace relations
Managing people can be complex for health and aged care companies. Many deal with large scale workforces and are often exposed to a range of potential legal issues that can stem from award compliance, industrial relations, negligence, discrimination and labour hire arrangements.
Our workplace relations team has worked in partnership with Australian health and aged care providers for many years and have extensive industry-specific knowledge as a result.
We also proudly have Victoria's largest team of Accredited Workplace Relations Specialists, so our clients know they can trust us to give the right advice, while remaining responsive and cost-effective in managing their workplace relations needs.
Learn more about our employment and workplace relations services >>
Occupational health and safety
The safety of your workers is more than just a compliance requirement, it is an investment in the productivity of your business. A safe workplace means lower operational costs as a result of unnecessary WorkCover claims and litigation, absenteeism, and back-to-work processes. It also protects your brand image and business reputation.
We can help you with defending companies and Directors in OH&S prosecutions, advising on statutory obligations under Commonwealth and state OH&S legislation and managing statutory investigations, and developing and implementing OH&S policies and procedures throughout your business.
Learn more about our occupational health and safety services >>
Establishing a Not-for-Profit
Many healthcare and community services organisations choose to be established as a Not-for-Profit for favourable tax treatment. A range of options exist for structuring a not-for-profit body, from companies limited by guarantee through to unincorporated associations and trust structures.
Not-for-Profits can be structured as charitable funds, private or public ancillary funds (PAFs), public benevolent institutions, necessitous circumstances funds, and other non-charitable categories.
Each structure has unique features that impact upon the rights and obligations of the not-for-profit and how it is used to pursue the objectives for which it was established. Choosing an appropriate structure is critical to success and efficiency.
We can help you with:
establishing a Not-for-Profit entity, including advising on the most appropriate legal structure, preparing constituent documents and preparing Wills where a fund is to be established under the Will
formulating your charitable purposes, public benefit, non-qualifying purposes and commercial activities
Tax structuring and litigation
A range of options exist for structuring a business. Each structure has unique features that impact upon the rights and obligations of the entity and how it is used to pursue the objectives for which it was established. Choosing an appropriate structure, and understanding your tax offsets, liabilities and credit opportunities is critical to success and efficiency.
Our tax group is a full service generalist tax practice able to provide upfront advisory services or dispute resolution and litigation advice and advocacy in dealings with the ATO and State Revenue Office.
We can assist you with general tax-effective structuring to, for example, quarantine risk associated with certain items of plant and equipment, or choosing the most appropriate and beneficial professional practice structure.
Learn more about our tax services >>
Property, planning, construction and leasing
The type of premises required by health and aged care entities are usually subject to rigorous regulatory requirements.
Our firm's expertise is grounded in commercial property and we can assist you with your property requirements during any stage of your organisation's property or construction project.
We can help you with:
sale and purchase of property
licensed venue operations
planning permits and environmental law disputes
leasing and licensing agreements
project financing and partnerships
construction procurement and delivery strategies
construction contracts and Security of Payment Act remedies
Donor relations, bequests and estate planning
Our team of Accredited Wills & Estates Specialists and experts can ensure any donor's bequests, charitable donations or trust structures are legally binding, mitigating any risk of potential challenges against the estate.
We can help your donors with establishing and managing public and private ancillary funds, drafting trust deeds for inter vivos charitable foundations and bequests and charitable giving advice.
We can also assist your donors with drafting Wills and powers of attorney, complex estate planning and drafting of testamentary charitable trusts incorporated in a Will.
Learn more about our charitable giving services >>
Dispute resolution
We assist our clients to avoid commercial disputes wherever possible, but understand that sometimes disputes are unavoidable. When a dispute does arise, we give frank and fearless advice. Our capabilities extend to debt collection of unpaid dues.
Our team is highly experienced in all forms of litigation, but not all disputes have to be litigated. Where appropriate, we will work to find an alternative approach that will save you the time, stress and cost of going to court. This may include mediation or arbitration.
Learn more about our dispute resolution services >>
Winding up and deregistration
We can assist with the wind-up process of a Not-for Profit company or incorporated association and can manage the deregistration of your entity.
Testimonials
We are very grateful to Rigby Cooke Lawyers. They had to first gain an understanding of what scleroderma is and why portable oxygen concentrators are needed and what the risks may be. They did an excellent job for us.
Jennene Caton, Scleroderma Victoria
Very happy overall with the service by Rigby Cooke, advice was very effective.
Adrian Morgan, chief executive officer of Gippsland & East Gippsland Aboriginal Co-operitve